---
GEMSTONES of YUKON TERRITORY
The Yukon Territory, famous for its "Klondike Gold Rush" over 100 years ago, is home to several important gemstones. The official gemstone of the Yukon is "Lazulite" from the Rapid Creek area in northern Yukon. Although, many beautiful crystal specimens of lazulite have been found, crystals suitable for cutting are extremely rare. To date, only small, dark coloured gems have been cut. Both jade and rhodonite are mined sporadically. Gem quality apatite, citrine and smoky quartz are produced occasionally from the Emerald Lake area, northeast of Ross River. In 1998, EMERALD was discovered near Ross River by a mineral exploration company. The recent attention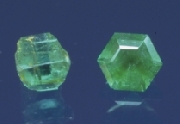 Emerald crystal and gem (0.14 ct)

from Ross River, Yukon

this discovery has received may trigger a new "rush" - a gemstone rush. Yukon appears to have great potential for future coloured gemstone discoveries.

Unless otherwise noted, this list only includes localities that have produced faceted gems or crystals that could otherwise be cut into gems.
---
List of Gemstone Occurrences in Yukon Territory
(Mines and significant occurrences are marked in bold)
BERYL Top

Aquamarine - Sceptre Claims, Emerald Lake
Emerald - Regal Ridge, Goalnet Property, Ross River area

GARNET Top

Almandine "Dark Red" - Goalnet Claims, near Ross River

Almandine "Red" - Sixty Mine River, Dawson area

Almandine "Red" - Black Hills Creek, Dawson

Andradite "Brown" - Swift river area
Demantoid "Green" - Swift River area
Hessonite "Orange brown" - Horn Claims, Dawson area


JADE Top

several localities

PERIDOT Top

Fort Selkirk area

QUARTZ Top

Citrine "yellow", "Smoky", "Colourless" - Sceptre Claims, Emerald Lake
"Colorless" - Venus Mine, Carcross
"Smoky" - Rapid Creek area
"Smoky" - Seagull Creek, Swift River
"Colourless, citrine??", Fiddler Claims, Rancheria
"Smoky", Wolf River area

RHODONITE Top

Salmon Range, Johnson's Crossing

TOPAZ Top

"Blue, tan, colourless" - Seagull Creek, Swift River
(also known as the "Wolf Lake occurrence")
"Colourless, tan" - Wolf River area
"Colourless" - Dawson area

ZIRCON Top

"Colourless, tan" - Dawson area
---
---
---
ALPINE GEMS
Specializing in Canadian Gemstones
Ph; (613) 549-3728
E-mail;
w_alpine@kos.net